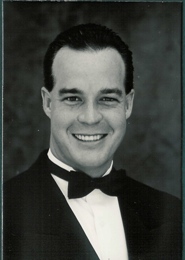 The Michael Butler, Humanitarian award was originally brought to the industry by ADJA member Ken Knotts. Ken began this award as part of another awards program and thanks to Ken Knotts, The ADJA Board of Directors is pleased to announce the formal institution of the "Michael Butler Humanitarian Award" for 2006. Michael was a founding member of the Los Angeles Chapter of the ADJA (known as the PADJ). Michael was also a paramedic for the Los Angeles Fire Department. He had spent his first few years in some of the most dangerous parts of town, dealing with gun shot wounds nearly every night. He loved his job. He also loved music and worked as a mobile disc jockey. In March of 1998, Michael and his paramedic partner responded to an accident involving a car and a garbage truck. Inside the car were a seriously injured 10 year old girl and her mother. Since there were no children's hospitals in the immediate area to treat the young girl, a helicopter was dispatched to transport her to one that could attend to her medical needs.
Although, it was not procedure for fire fighters to accompany medical transports, the helicopter was manned with only a pilot and co-pilot. So, Michael and his partner moved the girl into the helicopter and climbed aboard. En route to the hospital, the helicopter encountered mechanical troubles and crashed, killing Michael, his partner and the young girl. Michael was only 33 years old when he perished and his young wife, Maria, was 4-months into her pregnancy at the time of his death. He enjoyed helping people and had a generous heart.  Whether it was making people happy at a special occasion or saving lives, Michael remains an American hero.
The "Michael Butler Humanitarian Award" honors an ADJA member that has given of themselves to the benefit of their community or charitable cause in the name of the ADJA or the DJ industry as a whole. This award was originally a part of the American Disc Jockey Awards which is not connected to the ADJA or the American Disc Jockey Association. When the Awards show was ended Ken Knotts graciously transferred this award program over to the ADJA. We thank him for letting this award continue onward.
---
2016 – Sacramento Chapter of ADJA
The Adirondack – Albany Chapter – This year's nominee has helped raise money for a local charity in which started in 2006.  The nominee provided DJ & Photo booth services for their chosen charity and generated donations for 2018 of $4,000 after having already assisted in 2017 raising over $4,700. While this charity enjoys hosting their charity event, the funds raised supported local Food Drives, temporary homes for patients & families who traveled great distances for treatment at a local hospital, a local animal rescue, and a 22 year old on dialysis having had chronic kidney disease since childhood.  The charity is the Lake George Mom Prom, where adults bring out their old dresses to dance the night away and raise funds.  The 2018 Michael Butler Humanitarian Award is being presented to a group for their support through DJ services, photo booth services, and assisting with fund-raising efforts for the Mom Prom.
---
2016 – Sacramento Chapter of ADJA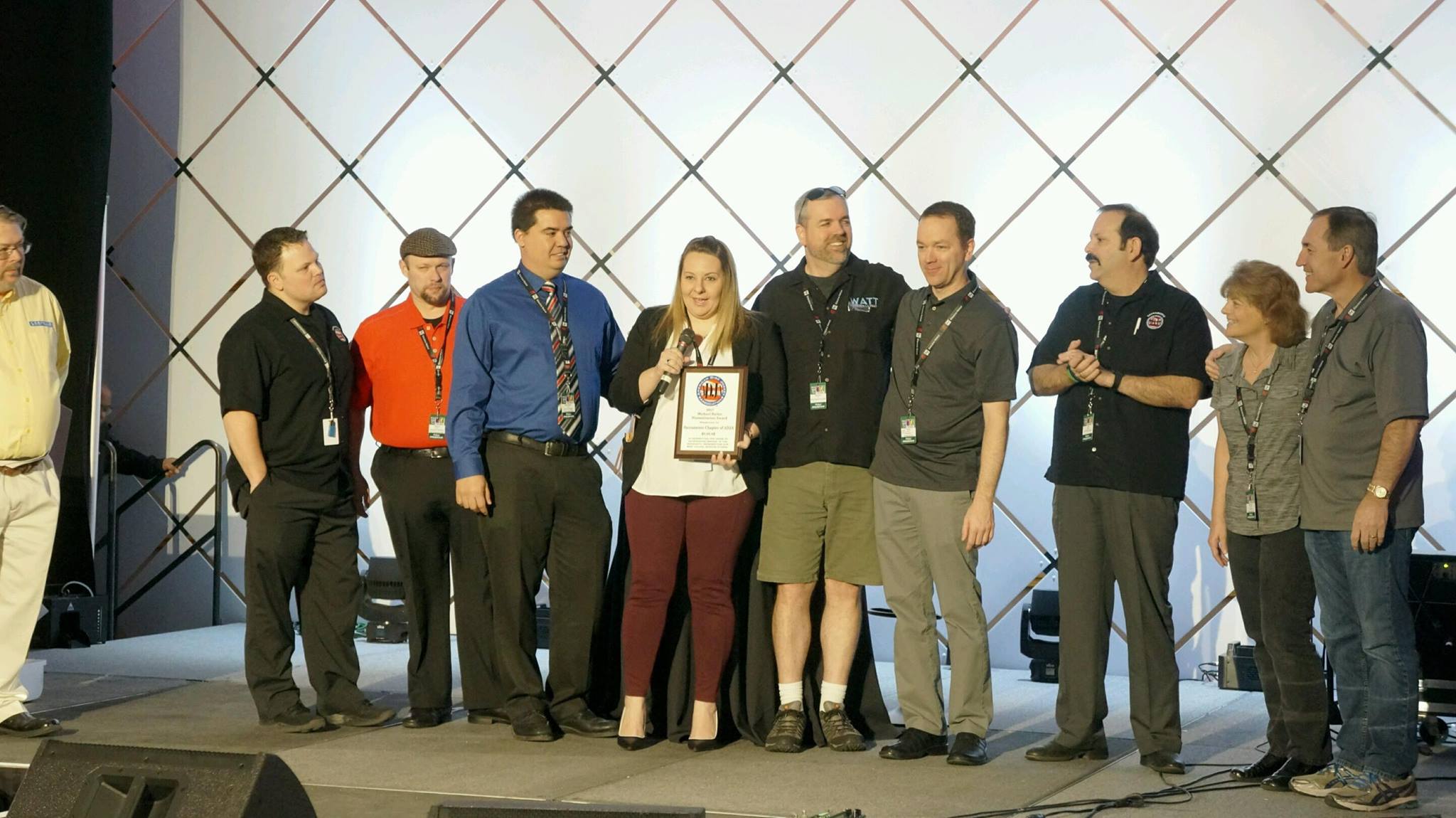 The Sacramento Chapter – is one of the longest continuous running chapters in the country. Sacramento Chapter has raised over $150,000 for Shriner's Hospitals for Children, through the generous donations and hard work of most of our members. They have consistently served their community exposing their community to the values that are the ADJA.
---
2015 – Andy "Cubby" Powell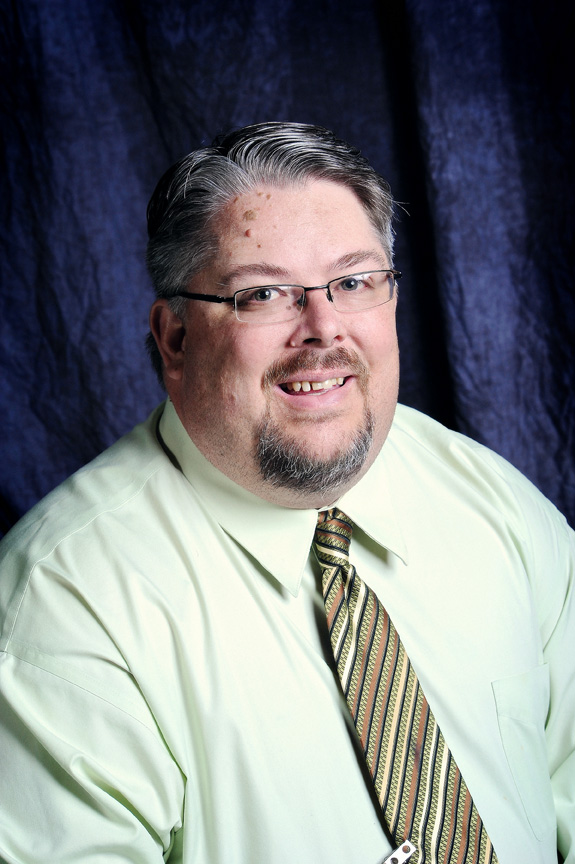 Andy Powell – is not only a wedding DJ, but also hosts trivia in multiple locations in his home town. Throughout the years, he has contributed his time and talent into raising money for local charities, although he has no personal connection to any of the charities he helps. He doesn't have any children or family members who might benefit from raising money to support charitable contributions he helps raise, and does this out of his willingness to support his local community.This year's award winner has helped raise money for the past 3 years for the Children's Cancer Connection. During his trivia games, participant teams are offered ways to double their scores for cash donations to the non-profit. Because of his efforts, money raised helps relieve the stress that parents, families, and patients go through as they struggle through treatments and simply trying to cope with some kind of normalcy to forget the affliction they are fighting against.Andy has been featured on the local news, due to his contributions and efforts. At one site he has raised enough to send at least 25 kids to camp, which costs $325 per child. Video Available: http://whotv.com/2014/07/29/donations-through-local-trivia-games-send-kids-to-camp/
---
2014 –
---
2013 – Mitch Taylor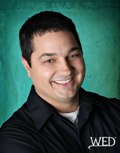 Mitch Taylor – provides services to charitable events within his community, and has been doing so for several years.  One such example is his work with a family who raises money for a non-profit, non-denominational summer health camp which serves children and adults with physical disabilities.  Their 2 month summer camp works with participants to help make them more independent.  The goal is to show camp attendees that they are capable of being involved in a variety of outdoor sports despite their disabilities.  This year, our recipient helped the family to raise nearly $4000 for the camp.In another instance of support, our recipient served as Master of Ceremonies for a charity ball, where proceeds from the event provides needy children with warm clothing, which is a great need for the chilling winters in his area.In 2008, our recipient provided services for a couple's wedding.  When this couple's son was born, it was discovered that he had a disorder which makes him allergic to most foods.  Nourishment to this child is obtained by ingesting a special formula which can cost up to $40 per container or nutrition through a stomach pump.  When this former wedding client asked our recipient to assist with a fund raiser, he eagerly accepted their request.  For the past 2 years, he has provided entertainment and served as MC to help raise money for a cure for this disorder.Additionally, our recipient has worked with a community leadership and development program which identifies, nurtures, educates, and motivates emerging leaders, of any age, and involves them more actively in community affairs.  As a 2011 graduate, he continues to encourage and share knowledge with other students in this program.Not only does our recipient dedicate time to charitable causes in his community, but he continues to nurture, encourage, and assist other DJs in his own community.
2012 – Geoffrey Sandler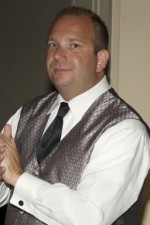 Geoffrey Sandler – Our recipient volunteers hundreds of hours in planning time and tens of thousands of dollars of value at fund-raising events. He has provided services to a variety of local non-profits, including: Breast Cancer Recovery; Susan G. Komen for the Cure; Big Brothers, Big Sisters; American Heart Association; Children's Hospital, and many other worthwhile causes.Besides recognition from his peers, this nominee had letters of support submitted from others in his community. One praised his ability to help their organization raised over $100,000 at their event. Not only did he provide talent as Master of Ceremonies and auctioneer, he also provided additional equipment, photo booths, and other services. This nominee modestly donates without asking for anything in return, and still maintains a smile on his face in every situation.Another group stated that this year's nominee has helped them grow their event in 6 years from 200 guests raising $50,000 to over 550 guests raising $800,000. Over the course of his services for this group, this year's nominee has been instrumental in raising over $3.2 Million for the community.This year's winner is a founding member of the Greater Houston Area Mobile Music Association and owner of Celebrations Entertainment. This year, the American Disc Jockey Association is proud to present the 2012 Michael Butler Humanitarian Award to a member who exemplifies this category, Mr. Geoffrey Sandler.
---
2011 –  Eric Horne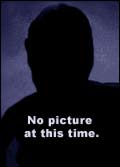 Eric Horne
– While we typically seek out DJs who contribute their time and service to the welfare of man-kind, we chose to recognize someone whose contributions benefit some of our compassionate companions. Prior to 2009, our recipient donated his services to fundraisers for local animal rescues, where 100% of the proceeds went to helping homeless pets. In 2009, this Humanitarian decided to chair the efforts of starting an animal rescue where there are a large number of stray dogs and cats. To date, this organization has rescued over 60 dogs.Proceeds from this recipient's DJ business have funded further rescue efforts. $100 from every event sees to the needs of the animals, which includes vet bills, food, and care. The goal of the rescue is to eventually purchase a farm with it's own banquet facility. With this in mind, renting out the banquet facility could pay for the property and further pet care for rescued animals who could reside at the farm.Over the past year, this Humanitarian has donated entertainment services for many rescue events and has never asked for compensation. He never complains and is always willing to help out a charity with his talent and services.
---
2010 There were no nominees.
---
2009 –  Ed Frank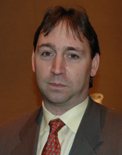 Ed Frank
– When Jeff Gibson was injured in a Jet Ski accident and almost lost his life, not only did Ed Frank inform the DJ world of the accident but he also stepped in and, according to Jeff, covered all of Jeff's events accepting no money in return. He organized several DJ backed send out card drives for people in the hospital that just needed cards including Jeff Gibson. He called Jeff from the DJA dinner in Indianapolis when Peter Merry was in town to speak at an event and made sure everyone wished him well. He also did the same thing at Mobile Beat Las Vegas calling Jeff from the DJA dinner and passing the phone around until the battery died.When another member was injured in a skydiving accident, Ed was one of the first to call & offer to help cover events for him. Ed embodies the spirit of the Michael Butler award & that is why he was the 2008 Winner.
---
2008 –  Cain Humphrey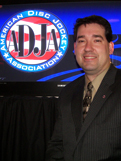 Cain Humphrey
– In May 2007, the town of Greensburg, Kansas, which had already seen its share of industry cutbacks, forcing many residents to seek work elsewhere, was demolished by a tornado. Over 80% of the homes and business were destroyed. Members of the association decided to lead an initiative to help the families in Greensburg by putting together a work party to do whatever was needed to help dig families out of their tragedies.Cain Humphrey stood out among the rest of their membership and put much of his life on hold, both personally and professionally. He moved to Greensburg for a week to dedicate his time to assisting in the cleanup efforts working late into the evening. He organized necessary equipment to help remove debris, and one night he worked past the town curfew and had to be escorted out by the Sheriff.Cain Humphrey coordinated efforts to provide services for the Greensburg high school graduation. The school not only needed a sound system, but rather tables, chairs, video taping equipment, generators, audio-visual gear, and much, much more. The well deserved graduation ceremony was one the students and families will not forget and it came off without a hitch, even gaining recognition nationally on Good Morning America and other stations.When a recent ice storm hit Cain's home town of Salina, Kansas, many homes were left without power, including his own. He purchased the last generator at the local hardware store, but he didn't just run home to provide for his own family, he spent hours at a time assisting his neighbors, helping them connect their own generators. Cain works hard in his local association, as well as donating his time for the betterment of others. He excels in helping those in need above himself.
---
2008 –  Louie Castellanos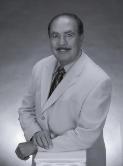 Louie Castellanos
– Recently Southern California was devastated by The Witch, Harris, and Poomacha fires which destroyed over 2,000 homes and 275,000 acres of land. Thousands of San Diegans returned to little more than ashes.
Many residents lost irreplaceable valuables and family memories, with a challenge of rebuilding their homes and their lives. On November 11, 2007 the Harris Fundraiser was held at Mr. & Mrs. Jack Burns estate in Jamul, California to raise funds for victims of the Harris Fire.Louie was the Go-To guy who put together the talent and entertainment for the fundraiser, making sure the event ran smoothly. He secured the services of The Greek Sombrero Restaurant as a host sponsor and chief caterer, as well as services of the Jamul Tuna Club. Created and produced in only 2 weeks, Louie served as the co-host and master of ceremonies and secured the services of several well known entertainers, which attracted over 700 guests and raised approximately $80,000. Following these fundraising efforts, Louie was also instrumental in the 2007 US Marine Corps "Toys for Tots" campaign for the 2nd year in a row. As a member and officer of the Jamul Tuna Club, he helped the club collect of 100 toys. Which was a large effort for a town with a population of 6,000 residents who were affected by the devastation of the Harris Fire.
---
2007 – Bill Dunsing

Bill Dunsing
– In 2006 the Cincinnati Chapter of the ADJA adopted a family for this Christmas season. In that drive Bill not only located a computer for them but also collected
extra toys and clothes through his church. Then just days before Christmas the organization we went through to help the family called with another family in desperate need. They were looking for anyone to take it on. Our chapter was tapped having just completed our drive for the first family. Bill decided to take things on himself.
The story of his encounter with this new family goes way beyond Christmas giving. This man, Samuel, his wife just died and he was left with 7 kids in all. He is working long hours to try to keep from losing his house. A house that reminds him of his
wife a house she wanted so badly. Bill not only started a drive for this family for Christmas but he has also managed to find this man a clothes dryer, a new stove, furniture, he has raised over $1000 in cash to help him pay his bills. He has arranged for a financial advisor to sit down with this man and form a plan so that he can keep his home. Bills family spent the 3 nights leading up to Christmas Eve with this mans family bringing them dinner and supporting them in any way possible. It has been an incredible story. www.dunsing.net is Bills website with some emails from Bill about the happenings with this family.
Bill also gives his time to theCincinnati ADJA Chapter as Secretary, helping his fellow DJ's build abetter relationship with one another and create better unity and possibilities for the ADJA chapter members to thrive as professional mobile DJ's.
---
2007 – Roy Dueitt

Roy Dueitt
–

For almost two years since Hurricanes Katrina and Rita ravaged the gulf coast of the USA, and many of the refugees were transplanted to Houston, Roy stepped up and contributed his time, money and compassion for his fellow mankind.  Roy's family took in a young unwed mother, assisted her in finding a job, car, and helped pave the way for her to build a reuniting bridge with her parents.





Roy also contributes his talents to the Be An Angel foundation as well. They built the biggest barrier-free playground in Humble Texas. This playground allows children who are handicapped to play right along side of their family and friends. They no longer have to sit and watch other children play.





Roy has also donated services to Project Graduations as a way to help keep kids off the streets at a time when it is dangerous for them to be out.

Roy continues to help the his fellow DJ's in and around Houston and throughout the Mid West build and grow their business and is currently the President of the Houston ADJA Chapter.
---
2007 – Jeremy Miller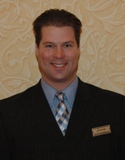 Jeremy Miller
– The DJ industry lost one of it's best in 2006. His name was Franz Seifert and he was a chapter leader and responsible for much of the formation of the Reno / Lake Tahoe Chapter. Upon his death, chapter president Jeremy Miller rolled up his shirtsleeves, marked off his calendar and agreed to perform more than 10 shows, that were already on Franz' calendar, with all proceeds to go directly to his widow and daughter.This not only kept a continual revenue stream to the family, but it also prevented Franz' widow from having to pay thousands of dollars in deposit refunds. On top of this, Jeremy also satisfied one customers request for a refund by reaching into his own wallet and refunding a 50% deposit ($995) so the family wouldn't be burdened by having to make these funds available to the customer. Jeremy's business took a
substantial hit of more than $12,000 in lost revenue, out-of-pocket expenses and compromised summer Saturday booking dates for his generous acts of kindness to a family in our own DJ community who suffered a tremendous loss.
---
2006 – Larry Williams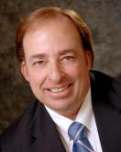 Larry Williams
is the owner of The Reno Tahoe DJ Company and is a local ADJA Chapter Leader. During the past year Larry has continued his years of community service, Locally, Larry has always been very giving of his time and talents to local charities such as "Camp Care at Lake Tahoe" and the "Special Olympics" for special needs children. Nationally, the affects of Hurricane Katrina called many of us to action. Larry was quick to respond by supplying a complete table top DJ console (fully loaded) to a New Orleans DJ who was severely 'wiped out' by this catastrophic natural disaster and has lead many of his fellow DJ's in supplying services around his community.
---
2004 – 2005  There were no Awards given during this time.
---
2003 – Patrick McDonald

Patrick McDonald
is the owner of Twilight Entertainment in Findlay, Ohio. He and his wife are foster parents, and have adopted 6 children in their care. Each child came from different homes and circumstances, and are of all races.  He's implemented a mentoring program with Chidren's services that allows licensed foster parents to take foster children to work, to expose them to various jobs and careers, of course Mobile Entertainment is one of those options.
He's volunteered annually for Habitat for Humanity of Hancock Co., to MC and DJ for their annual 70's Disco Dance Fund Raiser. He's also been providing & operating a sound system, and lighting to a local Women's singing group "Women of Faith" that do shows for local Nursing Home patients for several years.
---
2001 – 2002  There were no Awards given during this time.
---
2000 – Professor Jam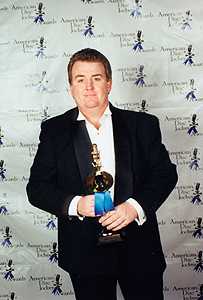 Professor Jam –
has garnered local and international recognition as the only mobile/club DJ selected by the Centennial Olympic Committee as a United States Community Hero, and given the honor of carrying the 1996 Olympic Games Torch. His name has been officially entered into the United States Congressional Record in recognition of his many contributions and for having raised millions of dollars for the betterment of our local and national communities; developing, organizing, and participating in numerous events while raising much-needed dollars for several community projects beneficial to such organizations as the American Lung Association; American Cancer Society; Toys For Toots; MADD; SADD; Salvation Army; Paint Your Heart Out; Ronald McDonald House; Muscular
Dystrophy Association; Children's Miracle Network; and United Way.His most astonishing fund-raising effort was the Across America Bike Ride from Los Angles, California to Boston, Massachusetts (3,528 miles), raising a quarter million dollars with 69 others on this monumental 50-day trek.In 1977, Professor Jam started his decades-spanning career with, ironically, a fundraising event. When asked about his endeavors, he commented, "I find my career a little overwhelming to have led me to where I am today. I can't take full credit for my actions that led to my nomination and awards of recognition. My wife Laurie has been just as involved with as much sacrifice in my long hours of donated time, crucial to my development, as well as the success in the many charity endeavors. The support of my family is the backbone of my success and they deserve just as much credit as I do in receiving this honor. Whether they realize it or not, all my performances are a direct reflection of their love and support."
---
1999 – Ray Martinez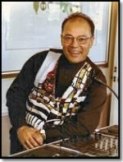 Ray Martinez –

A Bio & Description have not been submitted tho they have been requested.
---
1998 – Mark "Peace" Thomas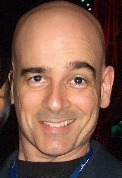 Mark "Peace" Thomas – was the first recipient of this award because it was Peace who picked up all of Michaels events and gave the money to his widow. This allowed both Michael's clients to be taken care of as well as His widow to have the extra income & not have to give refunds to so many clients. This award embodies the selfless service to others above their own needs.
---