ADJA Chapter of the Year Award
The ADJA Chapter of the Year award is designed to honor the local chapter that has done the most to help build & grow the ADJA in their market.

---
2017 – Phoenix Chapter
Phoenix Chapter – formed their chapter in 2001.  They instituted a community outreach with the only degreed education program offering a college degree in DJ. Embracing the ADJA motto of helping DJs build and grow their business through education, networking and support, they have followed the national guidelines for monthly education content such as Audio Design, Taking Ownership of Events, and Keys to a Great DJ & MC Performance, so much so that they have increased their membership by more than 50% from previous years.  Additionally, members in this chapter continue to provide podcasts and content to DJ educational websites to help other DJs provide better services to their clients.
---
2016 – Salt lake Chapter
Salt Lake Chapter –During the past 2 years, this chapter has more than doubled their membership. Rising from near extinction with only three members. During this time, they've sought to continually provide educational content at their meetings. They've hosted meetings about Networking, The Power of 42, and lunch with Alan Berg.
Members in this chapter not only become more educated about the services they provide, but also work cooperatively to assist one another. Members refer to one another in the chapter to help each member fill up their calendars. They refer area venues to other chapter members, knowing the caliber and skills of other members, who will well represent one another and the ADJA.When fulfilling a consumer's needs exceed one's own services, other chapter members are sought and referred, such that those consumer's desires can be fulfilled with excellent talent, photo booths, additional equipment, uplighting, or the occasional roadie help. Strengthening the brand of the ADJA and promoting the benefits of ADJA membership, this year's winner truly embraces our motto of Helping DJs build and Grow their business, through Education, Networking and Support.
---
2015 – Chicago Chapter
Chicago Chapter –Since the inception of local chapters, the ADJA has witnessed chapters grow, chapter decline, and some chapters disband due to lack of attendance and growth of membership. Throughout the past year, our winning chapter has nearly doubled in size.Leadership of this year's chapter winner has been tirelessly reaching out to local DJs, inviting, encouraging, and promoting benefits of ADJA membership.They have hosted meetings full of excellent educational content, including recent presentations by Randy Bartlett, Andy Ebon, and Peter Merkle. The board members were specifically designated based on their own expertise, availability, and ability to invite, inspire, and encourage peer DJs to succeed.Moving forward, the board has a plan for continued growth, as well as providing on-going, educational content to help members build and grow their businesses. Through their own Facebook page, they share information with members about traffic problems around town, wedding interest stories, and upcoming meeting topics.
---
2014 – Adirondack Chapter
Adirondack Chapter – They started as a group of 6, and proudly maintain 15 members. Over the past few years they have hosted many networking and educational chapter meetings. Not only do they promote content in their meeting, but also host events where they invite other local wedding professionals.Membership in this year's nominee continues to grow as they continue to invite other local DJs to their meetings. Networking among members in this chapter often involves shadowing another DJ, either to directly assist the hired DJ, or simply for support and roadie work. Members also help each other connect to wedding professionals for additional services for their clients.This year, they even held a benefit and presented a check to a local DJ who was going to be laid up following a surgical procedure.The board of this year's chapter nominee is constantly updating their chapter Facebook page, not only to promote chapter activities but to wish happy birthday to other members, share ideas, and welcome new members. Their page continually promotes training and education to other members to help them build and grow their businesses.

As this chapter continues to grow, they embrace and promote the values of the ADJA, not only through networking, education, and support, but also in their outreach to other wedding professionals.
---
2013 – Bay Area California Chapter
Bay Area CA. – Our 2013 Chapter of the Year recipient contains members who routinely travel somewhat extensive distances to attend monthly meetings. Since their existence, meetings have included educational content from local professionals and speakers, as well as partnering with other local associations to host speakers which would benefit members of other professional groups.This year's chapter efforts have expanded the recognition of the ADJA brand by promoting education, networking, and support with other professional associations, including NACE and their regional Professional Videographers Association. For the 3 on-going years, this chapter has partnered with their local National Association of Catering Executives to provide Audio-Visual services at their monthly meetings, truly building a strong relationship on par with our national efforts to build relationships with other event services groups.This year's Chapter continually promotes membership benefits through Facebook, reaching out to other local associations, and one-on-one contact with venues and other professionals. They are constantly seeking avenues to promote the ADJA brand in their local market and invite other DJs to become a part of their group.Members of this chapter have also experienced increased revenue through networking, educational content, and assisting one another. Due to their outreach efforts, other DJs began to understand the benefits and camaraderie members shared, contributing to this chapter doubling their size within the past year.

Not only does this year's Chapter recipient work to promote membership benefits, but members offer assistance to local charitable groups. Members have represented the chapter, providing services for groups such as Second Harvest Food Bank, the American Heart Association, Wish Upon a Wedding, as well as creating social gatherings to spread the ADJA brand such as DJ Swap Meets and Holiday Parties & Game Nights.This year's Chapter of the Year recipient promotes a family attitude within their chapter.

Members treat others as family members, assisting and encouraging one another so that each can grow their businesses. Additionally, they strive to establish their group as the entertainment and educational leader in their area.They originally formed as the Silicon Valley Chapter. Please help me welcome members of the 2013 ADJA Chapter of the Year….The Bay Area Chapter of San Francisco, California.
---
2012 – No Chapter was nominated
---
2011 – Connecticut

Connecticut – Doubled membership during 2nd year from 15 to 32 members, with average of 70% member attendance at each monthly meeting.- Participated in bridal shows, promoting ADJA brand.
– Presented Alan Berg (from theknot.com) as a speaker to over 100 wedding professionals and introduced more to the ADJA brand.
– Reached out to venue managers encouraging them to require ANY DJs who perform at their locations to show proof of insurance.
– Hosted Andy Ebon and had 80 DJs in attendance.
– Continues to work with Connecticut Professional Disc Jockey Association to encouraging their members to consider joining ranks of ADJA membership.
– Proud to have 3 "DJ of the Year" winners as part of their membership – John Rozz, Sean "Big Daddy" McKee, Adam Weitz
---
2010 – Charlotte, NC Chapter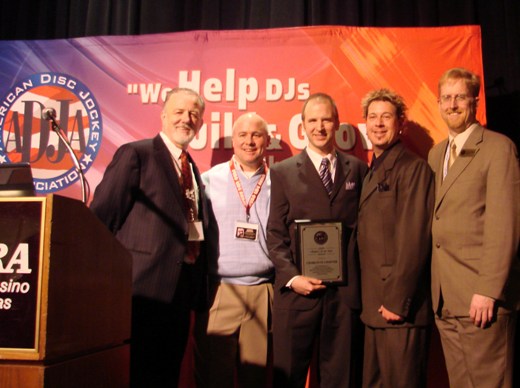 Charlotte, NC
The 2009 Chapter of the Year nominee is a young chapter. Although they formed less than 2 years ago, they are a group of extremely organized and dedicated professionals who have sought to fill their meetings with rich and beneficial content. Speakers have included: Dr. Drax, Mike Walter, Troy Ackerman, Peter Merry, Scott Faver, as well as speakers from other local and national companies.Prior to this chapter's formation, many local DJs had never heard of Mobile Beat, Disc Jockey News, DJ Times, Mark Ferrell, Peter Merry, Dr. Drax and the various educational opportunities most ADJA members are aware of. Some of their members are in attendance, for the first time this year, because of their leader's efforts.This chapter has grown through its outreach and local advertising. They promote the ADJA brand through local newspaper ads, their monthly email publication to prospects and members, as well as through a presence on Facebook. Chapter members also visit local venues to discuss the importance of hiring ADJA members and the "Get a DJ Fast" program. Other local DJs have recognized the impact of the membership as they have seen a decline in referrals when they are not a member of the chapter.When Mobile Beat planned their summer tour, this chapter was instrumental in spreading the word and coordinating this particular stop. According to one person, this chapter was "The Grand Champion among all chapters", spreading the word well enough to have over 100 people in attendance, the most of any Mobile Beat Tour stop!When the National Association of Catering Executives held their conference in this chapter's hometown, members pitched in to help in more ways than one. The chapter president served on the planning committee and offered services for the NACE conference. Rather than just provide a sound system and music, members provided services at social functions and helped the NACE committee organize each day's events. The conference co-chairs for NACE stated this chapter is "more than deserving for this recognition for all their efforts to promote the ADJA" in their market.
---
2009 – Sacramento Chapter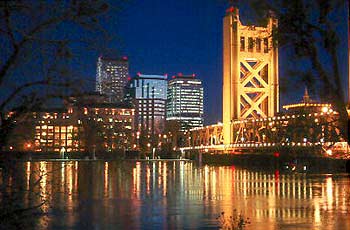 Sacramento – During their fourth year of operation as the Sacramento Chapter of the American Disc Jockey Association, a seasoned group of Entertainers set out to make a statement in the Sacramento, California community. Their goal was to create an awareness of the high level of standards maintained by local Disc Jockeys in providing entertainment to private and corporate events. These standards are outlined in the "ADJA Code of Professional Conduct".The ADJA Sacramento Chapter decided that a good way to extend this awareness was through a public charity event. On May 4, 2007, led by committee chairman David Van Enger (Music In Motion), we hosted our inaugural charity event. The beneficiary was a non-profit pet sanctuary called "Happy Tails", dedicated to the rescue of abandoned and stray cats. The name of our event was "Quatro de Meow". It was held at a prestigious venue. Price of admission included live background music by performing Chapter member/musicians, food pavilions, dance demonstrations, fabulous decorations, and attendees were greeted with a beveredge upon arrival. The result was a check of nearly $2,500 donated to the pet sanctuary.On August 1, 2008, the ADJA Sacramento Chapter held their second annual fundraiser, http://www.cme4adj.com/fundraiser/ . Our beneficiary this year was the Shriners Hospital For Children of Northern California. Held at the beautiful "Old Sugar Mill", with nearly 300 tickets sold, there were thousands of dollars worth of door prizes, upscale catering, floral designs, with a tropical theme while all attendees danced to the great sounds of our local chapter DJs.Once again, a marvelous community event was held with the help of the local ADJA chapter. As a result of the proceeds from the fundraiser, on October 6, 2008, the ADJA Sacramento Chapter contributed $4,436 to the Shriners Hospital For Children of Northern California. Attached is a letter of appreciation, a certificate of contribution, and a photo of the plaque they presented to us. This brings our 2-year total community contributions to nearly $7,000. In order to promote our event, and to have hospital employees attend while representing the non-profit agency, Shriners board of directors voted to waive a company policy that had previously deemed this kind of activity as a conflict on interest.Presently, they are working on their third annual fundraiser. The ADJA Sacramento Chapter has met their goals for community service and recognition of ADJA. Many who knew nothing of our professional organization, are now acutely aware of the standards we strive to achieve, and how to contact us.
---
2008 – Houston Texas Chapter


Houston Chapter of the ADJA makes every effort to support other chapters local, national and their community.This year our Houston chapter donated time this year to the Be An Angel Foundation, services for Healthy Kids day with the YMCA and the American Heart Association. They had shirts made with the ADJA logo on the center of the back of the shirt that they passed out to everyone.This year Houston focused on the national convention for NACE. " They really pulled out all the stops as they not only created a customized, choreographed routine to Sexyback called "NACE is BACK". By request of NACE they transformed one "off premise" event into a full blown, high energy nightclub complete with all the trimmings.Through their efforts, ADJA provided music at all the meals and refreshment breaks throughout the day. They championed the ADJA cause by dedicated effort and tirelessly worked to make sure that the ADJA was always represented in the best light.We really came out of obscurity with NACE. We were thanked from the podium at literally every event. That could only happen as a result of the outstanding efforts of the Houston Chapter whose members really stood up and made us all proud, knocking this one out of the park.For those that have not been to a NACE event, each meal, rest break or evening event has a specific theme, with specific requirements. Our Houston chapter came through with flying colors as they worked to not only select music that matched the theme, but video and other entertainment features. To those that sacrificed their time and talents so that ADJA could shine bright . . . we give a heartfelt "thank you!" You ROCK!
---
2007 – ADJA of Wichita, Kansas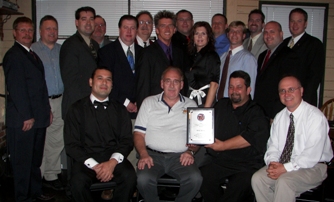 Wichita has led the way with pioneering regional Seminars & overall Chapter comraderie. The started & have built a tradition of excellence with the MMES Conferences. They have pioneered the bringing together of chapters in a region to strengthen & untify a region offering support to any ADJA group within driving distance. They earned the Chapter of the year for their efforts to strengthen the entire central & southern Midwest.

---
2006 – ADJA of Chicago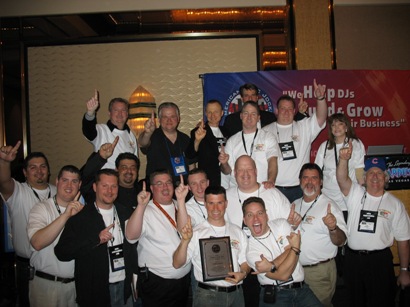 Chicago In April of 2004, just before Peter Merry stopped in Chicago, the chapter was born. In just a year and half, the Chicago Chapter exploded to its current membership of about 70 members!Accomplishments included:
– bringing Mark Ferrell to speak.
– securing local business leaders to speak, like Pat Price of The Price Group, Inc.- sponsoring a speaker demonstration bringing powered speaker manufacturers and reps for members to evaluate.- raising $1000 to donate to the American Red Cross for hurricane relief.
– consistent, valuable monthly content both from within their chapter and outside.
– strong support for a local equipment vendor, Pro-Mix, to be a national sponsor.
– social activities outside of the standard membership including: golf outing, holiday party, bowling team, paintball trip.- one page ad for local Chicago ADJA chapter in Wedding Bells Magazine (http://www.schooldiscjockey.com/chicagoadja2.pdf).Chicago won for their continued growth, community involvement and leadership to the industry for DJ's. President Allan Deneau accepted the award along with 20+ local chapter members in attendance and challenged every other chapter to "Come and try to take it from them next year".
---
2005 – No chapter Selected
---
2004 – ADJA of Colorado

Colorado–
Colorado Description
---
2003 – ADJA of Southern California

SCADJA –
SCADJA Description
---