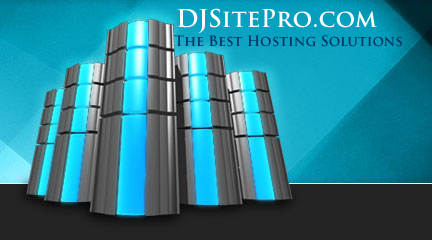 ADJA provides our members with high quality Tier One Hosting!  This is with our partner network DJSitePro.com  Many of you will remember we launched a member hosting service some years ago that also provided a templated system for site creation. A number of our members wanted to be able to host sites that they had designed elsewhere or had designed by a third party.  We made some adjustments to DJSite.com to facilitate that service.  However it was long on difficulty & has now grown old & tired.
We are now winding down that service with the addition of DJSitePro.com  Unlike DJSite.com this is a fully functional Tier One cPanel based hosting solution. cPanel is the number one hosting platform in the world.   This system  comes complete with many more features than DJSite.com
We have added WordPress Blogging software for free, this means your blog can now be a part of your domain, or your entire site can be blog based.  You choose!  We also added shopping cart technology to the package so that you can take payments directly over the internet.  We didn't stop there, we have guest books, photo Albums & much more available for you to build, create & host the most incredible site on the Internet.  All for Free with your paid national membership or above.
To get started today with DJSitePro.com just use this link as it is a specially coded link that will provide you with Free HOSTING!  The process goes like this.  You click the link to create an account.  It will ask for your ADJA membership number in the process.  Within about 30 minutes of signing up with DJSitePro.com your hosting account will be approved.  You will receive several emails so be sure to whitelist DJSitePro.com  The Welcome email will have all the information that you need to create your site, upload your files & to point your domain to the new hosting.
One word of caution, if you have domain based email hosted elsewhere you need to be sure to download that to your local computer as once you change the DNS of your domain to DJSitePro.com any mail on the old mail server would be lost.
As always if you have any questions or concerns.  Please call the national office of the ADJA for assistance.